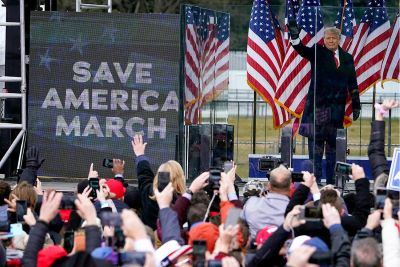 Trump's been indicted again. Here's a list of criminal and civil cases he's facing.
Former President Donald Trump was indicted for a third time on Tuesday for allegedly tampering with 2020 election results − a move that comes amid Trump's mounting legal troubles in other federal and state criminal investigations.
The newly unsealed indictment says − among other things − that Trump allegedly used fake electors in a scheme to overturn President Joe Biden's wins in several states, obstructed a congressional proceeding on Jan. 6 and spread false election fraud claims knowingly. Trump was charged with four counts.
The former president was previously indicted in a federal case related to his alleged mishandling of classified documents. Prior to that, a Manhattan grand jury in New York indicted him for allegedly falsifying business records in connection with hush money payments made to two women. He pleaded not guilty in both cases.
Prosecutors in Georgia are also eyeing a potential indictment over his efforts to overturn the state's 2020 presidential election outcome. The decision in the case could come by Sept. 1.
Here's a rundown of the criminal and civil cases that Trump's involved in as he continues to vie for the GOP presidential nomination for the 2024 election.
Trump was arraigned and charged on Thursday.