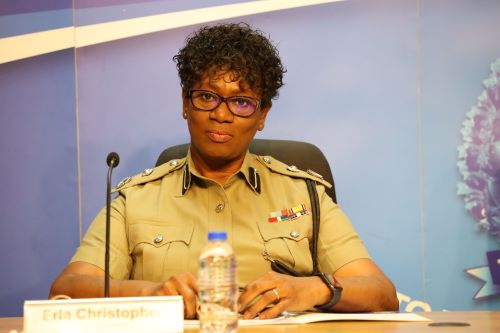 T&T's first female Police Commissioner
Parliament approves motion making Erla Harewood-Christopher T&T's first female Police Commissioner
The House of Representatives has unanimously confirmed Erla Harewood-Christopher as the country's first-ever female Commissioner of Police.
All Government and Opposition Members of Parliament in the House voted in favour of the motion to appoint her, ending in a vote of 36 for, zero against and zero abstentions.
Harewood-Christopher, who has been acting in the position, was recommended by the Police Service Commission (PSC) but the recommendation still needed to be ratified by Parliament.
Leading the motion for her appointment, Prime Minister Dr Keith Rowley said that the PSC had nominated her "as the highest-grade candidate".
He described her as "very well qualified through training and academia" and told the House that the Government was not surprised that the PSC would have listed her as the top applicant at this time.
Harewood-Christopher is 59 years old and by law must retire when she turns 60 on May 15, 2023.
However, Dr Rowley noted that the law allows for an extension of one year, and following a review, a maximum further extension of two one-year terms.
He told the House that her imminent retirement did not disqualify her as a nominee.
Opposition Oropouche East Member of Parliament Dr Roodal Moonilal told the House that he had no problem with her qualifications.
He said, however, that it was regrettable that she did not have any history of crime-fighting on the field.
"Whether that is an advantage or a disadvantage one could never tell," he said, adding that one would expect that someone coming into this position would have some history of crime-fighting to bring to bear.
He said it was unfortunate that the names of those who were listed by the PSC as second and third, were not made public.
He wished Harewood-Christopher "all the best in her endeavour" and said he wanted to indicate to her that both the country and the Opposition will be watching her tenure.
He also told her to be tough and strong.
Photo: Erla Harewood-Christopher
Nicole Drayton