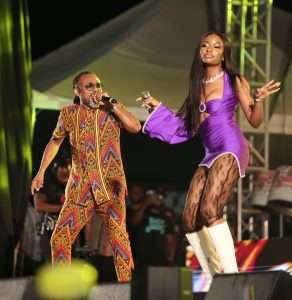 Machel's hits save the day as late start, lulls put damper on One Show
It was meant to be a triumphant celebration many waited for a year to experience.
Machel Montano was finally staging a 40th-anniversary concert on his home soil.
He had done it in spectacular style to rave reviews in New York at the Barclays Centre back in September.
Carnival Friday was the day he chose, formerly known as Fantastic Friday thanks to Soca Monarch.
This year MM40 became the biggest game in town with his One Show and with the cancellation of ISM and Montano's absence on the fete circuit, it was clear all roads were leading to the Hasely Crawford stadium.
In numerous media interviews, Montano urged patrons to arrive early. He promised an intro that is not to be missed. The show, he said, was meant to educate patrons about Carnival and its roots in Africa hence the cast of Afrobeats artists Wizkid, Arya Starr, and Rema and the Kambule reenactment.
MM 40 did not live up to the hype.
With gates advertised to open at 6 pm, obedient patrons heeded the call to reach early only to find themselves corralled at the entrance to the stadium because of a closed gate.
Gates opened at 9 pm but entry to the platinum section turned chaotic due to faulty scanners. One patron told Loop News her ticket was declared invalid and she was made to stand in a tent with many others until it was sorted out.
Inside, patrons rushed to the bars and food vendors, creating long lines.
The opening act, Sekon Sta, took the stage around 10 pm. His set included performances from Freetown, Preedy, Ravi B, Kernal Roberts, Zan and Shal.
Rema took the stage around 11.30 to sing three songs and quickly depart. Montano later explained he had to leave as he is performing at the NBA All-Star Weekend.
A long lull ensued with a DJ filling the space with music.
Just after midnight, an MC appeared and cued some Afrobeats music in preparation for WizKid who took the stage at 12.15 am. His half an hour performance was lackluster and at times patrons only heard his backing tracks over his voice.
At 1.15 am, Chinese Laundry turned everyone's attention to the five-minute countdown clock to usher in the man of the moment.
Montano's intro was not the anticipated spectacle we were told we could not miss. He explained later in his set that he had a drone display planned but the drones weren't allowed into the country.
Instead, he improvised with a snippet of Kambule for the intro and emerged on the stage singing "Spirit".
As if he wanted to make up for the lulls that preceded him, Montano, dressed in outfits by Ecliff Elie, put his all into his performance, delivering past hits with the energy and vigour that he is known for.
Acknowledging the show started an hour late, he said his aim was to finish before 5 am. However, at 2. 30 am, it was clear that was not possible as there was still a full slate of artistes to perform.
Apart from the late start, the show was plagued with technical difficulties with the sound system, particularly the special segments.
The highly anticipated cultural segments such as the Meeting Place that featured acclaimed trumpeter Etienne Charles and his long-time producer Leston Paul suffered from difficulties. Microphones weren't working and Paul's keyboard was not functioning.
Even the segment in which Montano spoke about Carnival's roots and the genesis of stickfighting fell flat since the Signal Hill choir could not be heard properly.
As far as performances go, Montano and the artistes delivered. Arya Starr was a standout among the African acts of the night as she engaged the crown and showed off her vocals.
Among the soca stars, Nailah Blackman and Skinny Fabulous sent the crowd into a frenzy with their Road March contender "Come Home". They were joined on stage by Johanna the Piano Girl who did a rendition of their song.
Montano's performance of "Like Yuh Self" with Patrice Roberts was a big hit too, showing that the song has definite legs for the Road March title.
Other performers on the night included Voice, Jamaican dancehall singer Agent Sasco, KMC, Benjai, Iwer George, Nadia Batson, Destra Garcia, Tempa, Lyrikal, Natty and Thunda, Olatunji and College Boy Jesse.
Montano closed off the show after 5 am with the legend Superblue.