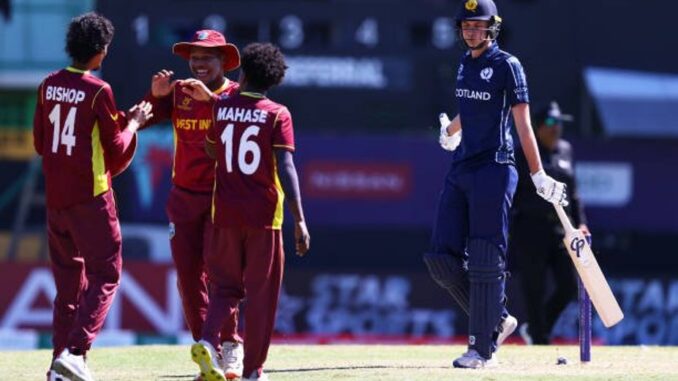 ICC U19 CWC Plate Tournament opens in T&T on Tuesday
The Plate Tournament of the ICC U19 Cricket World Cup begins in Trinidad and Tobago on Tuesday with two quarter-final matches on tap.
At the Queen's Park Oval, Uganda takes on the United Arab Emirates, while Canada battle Ireland at the Brian Lara Cricket Academy, Tarouba.
Uganda finished fourth in Group B while the UAE was third in Group A.
Canada, was the fourth-placed team in Group A, while Ireland was third in Group B.
The other two Plate Quarter-finals are on Wednesday, with West Indies against Papua New Guinea at Diego Martin, and Scotland against Zimbabwe at the Queen's Park Oval.
The Super League Quarter-finals begin on Wednesday in Antigua, with England taking on South Africa.
ICC U19 CWC Super League Quarterfinals
26 Jan – England vs South Africa (Sir Vivian Richards Stadium, Antigua)
27 Jan – Sri Lanka vs Afghanistan (Sir Vivian Richards Stadium, Antigua)
28 Jan – Pakistan vs Australia (Sir Vivian Richards Stadium, Antigua)
29 Jan – India vs Bangladesh (Coolidge Cricket Ground, Antigua)
ICC U19 CWC Plate Quarterfinals
25 Jan – United Arab Emirates vs Uganda (Queen's Park Oval, Trinidad)
25 Jan – Ireland vs Canada (Brian Lara Cricket Academy, Trinidad)
26 Jan – Zimbabwe vs Scotland (Queen's Park Oval, Trinidad)
26 Jan – West Indies vs Papua New Guinea (Diego Martin Sporting Complex)
Photo: West Indies U19s will face Papua New Guinea in the ICC U19 CWC Plate Tournament on Wednesday in Diego Martin. (Photo credit – CWI Media)
Vidia Ramphal