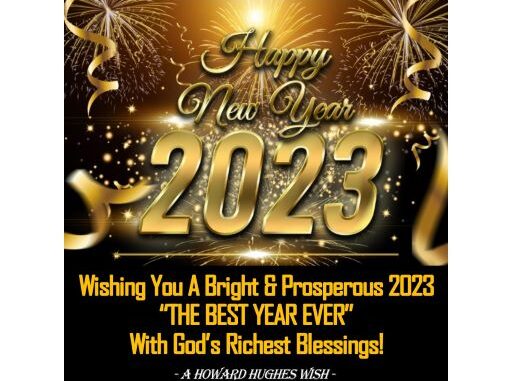 FIRST, LET'S GIVE GOD ALL THE PRAISE & GLORY FOR 2023
Written by Howard Hughes 1/1/23
First. Let's Give God All The Praise & Glory For 2023.
God truly deserves all the praise and glory for keeping us alive, especially after what we have all been through in the last few years, including COVID, War, Flooding, Hurricanes, Storms, Earthquakes, Corrupted Politicians, Lack Luster Leaders, Food Shortages, Mass Migration and so much more.
In spite, of all these horrendous circumstances in our present history, we have so much to thank God for.
GOD IS GOOD ALL THE TIME. AND ALL THE TIME GOD IS GOOD.
Secondly. Let's take some time off to relax and meditate, so, we can reflect on the past year and plan for the future. The good thing is that we have the hope for tomorrow and with God all things are possible. Just keep the faith and keep pushing ahead.
THERE IS NOTHING BETTER THAN LIFE! Then when you have it, you can add great health, family & success.
Always remember to do unto others as you would like them to do unto you. Love your neighbor as yourself.
Aim for the moon and in case you fall short, you may land among the stars.
NEVER GIVE UP!
Never give up on yourself and your goals. Keep dreaming and "keep Hope Alive" as is Jesse Jackson's Motto.
And in my own words "THE WORLD IS FULL OF LOVE. LET'S ALL SHARE IT. THE FUTURE IS YOURS. DON'T FEAR IT. SUCCESS COMES FROM HARDWORK AND DETERMINATION. SO, LIVE LIFE TO THE FULLEST!
Don't be a follower. Become a leader.
Every good thing in life doesn't always require money. There are many great things including one's talents, opportunities, good deeds, your mother's prayers and God's rich blessings that you can use to help you achieve your goals.
"If you can believe it and your mind can conceive it then you can achieve it" according to former Brooklyn's Medgar Evers College President, Edison O. Jackson.
KARMA IS NOT A GOOD THING!
In Hinduism and Buddhism, the sum of a person's actions in this and previous states of existence are viewed as deciding their fate in future existences: "So, be very careful in the life you live. Because, what you do comes back to face you.
Life is a cycle.
It is not what you say, but what you do that matters more in your life's journey.
A good change to observe in 2023 is not to speak ill of people and if you have nothing good to say, then it is better to just smile and say less.
If you cannot say it in front of your young impregnable children then don't say it. Children learn best by your examples.
ACTIONS ALWAYS SPEAK LOUDER THAN WORDS.
Stay Bless, Less Stress & Let God Do The Rest!
LOVE, PEACE & HAPPINESS ALWAYS!
– A Howard Hughes Guide For A Better 2023 –