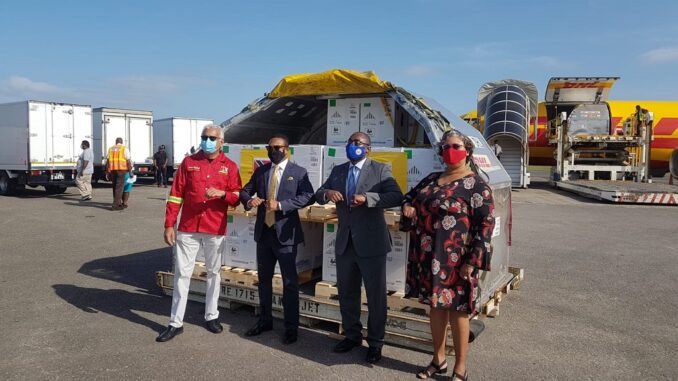 Trinidad & Tobago received a donation of 305,370 Pfizer COVID-19 vaccines from the United States Government
Trinidad and Tobago received a donation of 305,370 Pfizer COVID-19 vaccines from the United States Government at 7:58 am on Thursday, August 12, 2021.
A shipment of 305,370 doses of the Pfizer-BioNTech COVID-19 vaccine, donated by the US government, has arrived.
The Ministry of Health shared photos of the flight and offloading and checking of the vaccines, which were delivered following an announcement by the US administration.
Health Minister Terrence Deyalsingh, speaking to media this morning said there are some requirements to keep the vaccines chilled and stored correctly prior to use. He said once the vaccines are prepared for use, they must be used within 30 days.
Deyalsingh said once arrangements have been made with the Ministry of Education, there are plans to begin administering the vaccine to students within the coming weeks.
"If all goes well, we want to start administering the vaccines next week…early next week, but we have to pre-plan."
He said a technical meeting was being held with the Education Ministry and other stakeholders today to discuss logistics. He said alternative sites might be used for student vaccinations to keep the process organised.
Minister of Foreign and CARICOM Affairs, Amery Browne, said this constitutes the largest consignment of donated vaccines to arrive in
Trinidad and Tobago since the inception of the COVID-19 pandemic.
The US government said it has committed to donating 908,000 doses to Trinidad and Tobago which constitutes 77 per cent of all vaccines donated since deliveries started in February.
Prime Minister Dr Keith Rowley previously stated that any Pfizer vaccines received by the country would be used for vaccinating students as Pfizer is currently the only vaccine approved for use for children 12 years and up.
In an announcement Wednesday, the US government said it will deliver a total of nearly 837,000 Pfizer vaccines to Caribbean nations as the region with limited resources struggles with a spike in COVID-19 cases and reports of several anti-vaccination protests.
The Bahamas will receive 397,000 doses followed by Trinidad and Tobago with more than 305,000 doses. Barbados will receive 70,200 doses, while 35,100 are slated for St. Vincent and the Grenadines, 17,550 for Antigua and 11,700 for St. Kitts and Nevis.