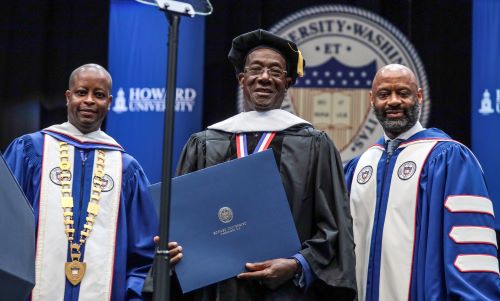 Prime Minister Dr the Honorable Keith Rowley received an honorary Doctor of Letters from Howard University during the institution's 155th Commencement Convocation Ceremony held on Saturday 13th May 2023).
Honorary recipients at today's ceremony included US President, Joseph Biden, the Honorable James E. Clyburn, United States representative for South Carolina, education benefactors Martha and Bruce A. Karsh, Duke University Health System president and CEO A. Eugene Washington; and corporate director Benaree Pratt Wiley.
During his keynote address, President Biden thanked Prime Minister Rowley for "being a strong partner in the Caribbean and for addressing climate change and supporting democracies across the Western Hemisphere."
US President Joseph Biden remarked that "PRIME MINISTER, PRIME MINISTER, I DID NOT KNOW THAT YOU WERE SO TALENTED, I JUST TAUGHT THAT YOU WERE A FOREIGN POLICY, YOU KNOW LATIN AMERICAN GUY, I, I, WE GOT TO TALK".
More About Dr Rowley:
Dr Keith Christopher Rowley was born on October 24th, 1949, in Mason Hall, Tobago, and was raised by his grandparents, who were prominent Tobago farmers.
Dr Rowley completed his secondary schooling at Bishop's High School, (BHS) Tobago and his sterling academic performance saw him capture the prestigious Sylvan Bowles Scholarship at BHS. He then commenced his studies at the University of the West Indies, Mona, Jamaica, from where he graduated with a BSc. Geology (First Class Honors), Geography (First Class Honors); MSc in Volcanic Stratigraphy, UWI, St. Augustine.
He is a Volcanologist who obtained his Doctorate in Geology, specializing in Geochemistry.
He is a known nature lover, who enjoys gardening, hiking and is an avid golfer.
As a Research Scientist he held the positions of Research Fellow and later Head of the Seismic Research Unit at the University of the West Indies, St. Augustine. He was also the General Manager of State-owned National Quarries Company Limited.
He first ran for political office in 1981, where he contested the Tobago West seat. To date Keith Rowley has the distinction of being the only Peoples National Movement (PNM) candidate to have contested a seat in a General Election in both Tobago and Trinidad.
Dr Keith Christopher Rowley is the Member of the House of Representatives for Diego Martin West in the Parliament of Trinidad and Tobago, where he has represented that constituency since 1991 having been re-elected in 1995, 2000, 2001, 2002, 2007, 2010, 2015 and 2020.
Dr Rowley first served in Parliament as an Opposition Senator from 1987-1990.
He later served at Cabinet level holding, at various times, the portfolios:
Minister of Agriculture, Lands and Marine Resources,
Minister of Planning and Development,
Minister of Housing
Minister of Trade and Industry.
Governor of the Caribbean Development Bank (CDB).
Trinidad and Tobago's representative Governor of the Inter-American Development Bank (IDB)
Following the People's National Movement (PNM)'s defeat in the Trinidad and Tobago General Election, 2010, Dr Rowley was appointed Leader of the Opposition of the Republic of Trinidad and Tobago and was elected Political Leader of the People's National Movement in 2010.
On September 7th, 2015, Dr Rowley led the People's National Movement to general election victory, to become the 7th Prime Minister of the Republic of Trinidad and Tobago. Dr Rowley was re-elected to serve as Prime Minister on August 10th, 2020, after winning the 2020 general election.
Contact the Office of the T&T Prime Minister:
It is advised that all queries should be written to the Office of the Prime Minister using the below address:
13-15 St Clair Avenue
Port of Spain, Trinidad
Tel: (868) 622-1625