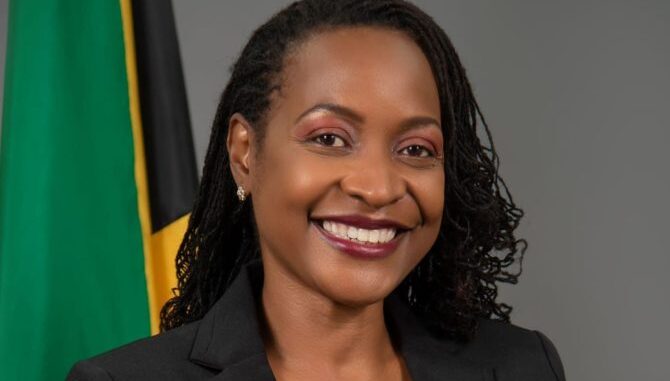 Jamaicans Urged to Reflect on Marcus Garvey's Teachings.
Jamaicans are being encouraged to reflect on the teachings of Jamaica's first National Hero, the Right Excellent Marcus Mosiah Garvey, which continue to resonate deeply with the principles of nation-building.
The call was made by Minister of State in the Ministry of Education and Youth, Hon. Marsha Smith, during Thursday's (August 17) civic ceremony organised by the St. Ann Municipal Corporation's Civic Affairs and Community Relations Committee at Lawrence Park in St. Ann's Bay to commemorate the 136th anniversary of Mr. Garvey's birth.
The event was held under the theme 'Garvey's Teachings Still a Pillar of Nation-Building'.
Ms. Smith encouraged Jamaicans to use Mr. Garvey's teachings as stepping stones for self-improvement, re-examining goals and forging new paths forward as one people.
She noted that in endorsing Mr. Garvey's philosophy, Jamaicans are embracing the responsibility and opportunity to contribute to the country's ongoing development, just as he envisioned.
"So today, let us not solely go through the motions of remembrance, but let us see today as an opportunity for self-evaluation and accounting," Ms. Smith stated.
"This self-evaluation and accounting allow us to live our lives with renewed commitment and to take advantage of every opportunity, and where there is no opportunity, we make it for ourselves," she added.
For his part, Mayor of St. Ann's Bay, Councillor Sydney Stewart, acknowledged the influential leader as one of the greatest philosophers globally, underlining his global significance and contributions.
He also highlighted the debt of gratitude owed to Marcus Garvey by St. Ann, the National Hero's birthplace.
Councillor Stewart maintained that it was not only about honouring and celebrating Mr. Garvey, and urged Jamaicans to also delve into his enduring work and journey that encompassed Jamaica and the world beyond.
"So each August, on the 17th, we gather to celebrate and take great pleasure in honouring Marcus Garvey. I say this on behalf of all the citizens of St. Ann," the Mayor said.
The ceremony, which was also used to commemorate the 59th year of Marcus Garvey's declaration as a National Hero, saw the laying of floral tributes in his honour as well as a marching parade by the Jamaica Constabulary Force and other uniformed groups.
Okoye Henry