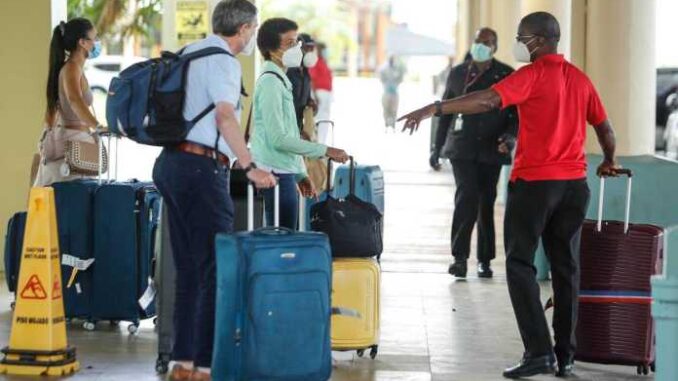 New Health Protocols At Piarco Airport
Travellers Okay With New Piarco Health protocola
One of the first international Caribbean Airlines flights arrived at the Piarco International Airport from New York yesterday, just one day after the country's borders were reopened.
But despite the additional health protocols that now come with travel during a pandemic, fully vaccinated passengers who arrived on the flight said they were not discouraged by it.
In fact, most said the process was smooth. Mala Khan has lived in the United States for the past 35 years and returned yesterday to escort her husband, who fell ill and got trapped here in T&T when the borders closed, back home to the US.
"My husband lived in Trinidad since 2019. He had a stroke and tried to come back to New York and had a seizure right here (at the airport) a couple of months ago.
"I'm coming back to Trinidad actually, so I can accompany him back to New York," she told Guardian Media shortly after arriving at the airport yesterday.
Now that she's here, however, she described the feeling as "awesome".
"I was worried for all this time because we didn't know what was gonna happen. So the border opened yesterday, I got a ticket today and here I am."
She said she was "really impressed" with how smooth the entire travel process was, especially the newly-launched TT Travel Pass.
"I was concerned when I got online to get the TT Pass but it happened within five minutes."Much like Khan, another passenger on the flight, Gerard Khan, described the online Travel Pass and entry protocol as a "smooth" process.
He said he will be travelling between Trinidad and New Jersey, where he lives, now that borders are opened and wasn't discouraged by the new process.
"Of course. This is my home," he said.
After he landed, he said he was setting his sights on "oysters, doubles and a Stag."
Laomi Harewood, however, admitted she encountered some issues with the online Travel Pass system but otherwise it was a smooth process.
Asked if she'd be willing to travel frequently under the new process, she said: "I have to. My family is here. It's not the worst thing."
Harewood lives in New Jersey and had not visited her parents and family in Trinidad since the borders closed.
She last visited in February 2020.