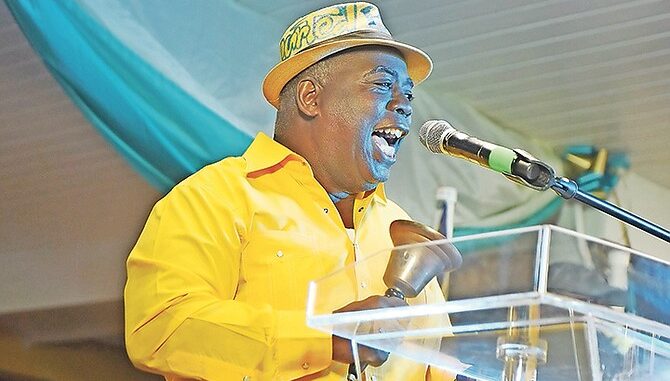 IT'S A BRAVE NEW WORLD: PLP stuns with total reversal of 2017 defeat
September 17, 2021
AFTER leading the Progressive Liberal Party to a wide victory at the polls, incoming Prime Minister Philip "Brave" Davis promised to tackle the challenges facing The Bahamas with humility and determination.
Mr Davis delivered his victory speech before a crowd of jubilant supporters gathered at the New Bight, Cat Island airport last night. He spoke shortly after he was re-elected as the member of Parliament for Cat Island, Rum Cay and San Salvador—an area he has represented since 2002.
With the COVID-19 pandemic still raging, Mr Davis will now steer the country through a tumultuous period of mounting debt, double digit unemployment numbers and stagnant economic growth.
"It is time to face our challenges and face them head on," he said. "You voted for a new day, a new beginning."
He thanked those who voted for him, and for those who didn't, he promised to win them over.
Striking a chord of unity, he said: "To those who voted PLP today – I promise to work hard to justify your faith in us. To those who voted for a different party today – I pledge to work hard to overcome your doubts.
"Many of you didn't vote at all today – because the snap election took you by surprise and you weren't able to register on time, or because transferring from one constituency to another was deliberately made too difficult for you. Many of you didn't vote today because you were afraid of being exposed to the virus; the protocols for protecting voters were only published at the last minute.
32 seats won by the PLP Progressive Liberal Party – Political Leader Philip Edward Davis
7 seats won by the FNM Free National Movement – Political Leader Hubert Alexander Minnis
Photo: PLP Progressive Liberal Party – Political Leader Philip Edward Davis