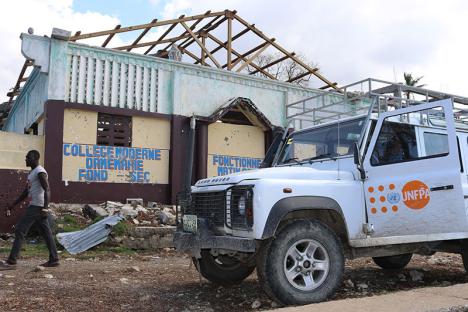 PORT AU PRINCE, Haiti — With some 546,000 women of reproductive age in Haiti affected by Hurricane Matthew, the United Nations Population Fund (UNFPA) has urged greater attention to women's vulnerability in the aftermath of the storm, which devastated not only people's livelihoods but health facilities and other vital infrastructure.
"Our urgent task is to protect the health and rights of women and girls, and to ensure that their basic needs, which are often overlooked in humanitarian situations, are quickly met," UNFPA executive director, Dr Babatunde Osotimehin, said recently.
The storm, which hit the Caribbean country on 4 October, caused widespread damage, flooding and displacement. In the worst affected areas, mostly in the southern part of the country where the Category 4 storm made landfall, the devastation of health facilities and lack of adequate shelter have left women in urgent need of health and protection services.
Of the 2.1 million people affected, about 546,000 are women of reproductive age, with an estimated 13,650 women expected to give birth in the next three months. UNFPA also estimates that 10,920 women and adolescent girls are at risk of sexual violence.
A recent joint evaluation, with the Haitian ministries of public health and women's affairs, of health infrastructure in the two worst affected departments of Grand'Anse and Nippes, found that 23 of 26 facilities were affected. Of 11 facilities in Grand'Anse alone, two were completely destroyed, two were closed, none have power or water, and all require health workers.
While the international community is responding to the crisis, women and girls face increased risk of dying during pregnancy and childbirth and of gender-based violence.
Before the hurricane, Haiti had the highest maternal death rate in the Western Hemisphere. Now, with many women not going to hospitals, maternal and newborn mortality rates risk rising even higher.
UNFPA is responding to the crisis by working with the Government and partners to deploy two teams of midwives in mobile clinics to Grand'Anse and Nippes, where they will provide reproductive health services to women in need. Each mobile clinic is staffed by five national midwives who graduated from the UNFPA-supported midwifery school, an international midwife and a driver.
In addition, the agency will rehabilitate six maternity units that were damaged by the hurricane, and will provide 'Relief Baby Boxes' for 2,000 newborns. The boxes will be distributed to maternity units in affected areas, along with additional articles (mosquito repellent, bed nets, etc.) to prevent the spread of the zika virus.
To stock facilities and mobile clinics, UNFPA is providing 261 emergency reproductive health kits with equipment, medicines and supplies for safe deliveries, voluntary family planning, rape treatment and other services. The kits will benefit 390,000 people for the next three months.
The services provided by UNFPA's mobile clinics include screening for gender-based violence and referral to specialized medical services.
A gender-based violence assessment undertaken by UNFPA and the ministry of women's affairs found a lack of protection measures in affected areas and increased risk of sexual and gender-based violence. In the temporary shelters, which have no electricity, there is no space solely for women and girls, and little attention is paid to their privacy, dignity or security.
Haiti's women and girls in the regions affected by Hurricane Matthew face huge challenges ahead, but they will only be able to surmount them if they receive the attention and support of the international community.
"We need to reinforce the infrastructure that the government put in place after the earthquake," UNFPA representative Marielle Sander said. However, she added: "We also need to make sure that other issues are not forgotten and for that we require a longer process."
Photo: Damage to health infrastructure caused by Hurricane Matthew is extensive, according to a joint evaluation conducted by UNFPA and the government of Haiti. Photo: UNFPA/Eddie Wright