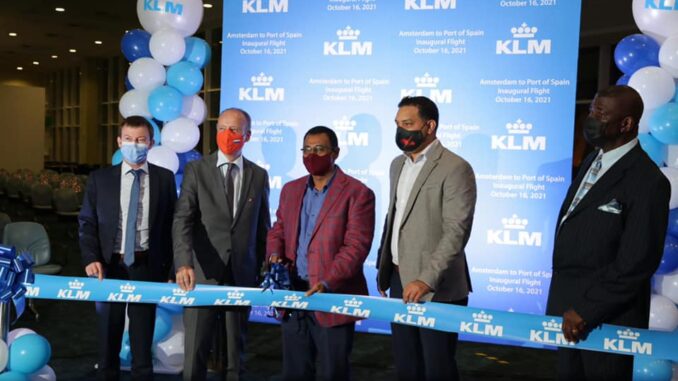 TRINIDAD AND TOBAGO GETS GOOD NEWS ON TOURISM BOOST
KLM Airlines flight arrives at Piarco International Airport
Public officials were on hand to welcome the inaugural flight of KLM Airlines which landed at the Piarco International Airport yesterday.
The Trinidad and Tobago Airports Authority shared a video of the aircraft arriving at the airport yesterday evening.
Tourism Minister Randall Mitchell shared an update to social media welcoming the airline.

"Let's welcome the return of KLM Royal Dutch Airlines to destination Trinidad and Tobago! This move provides us with many possibilities that will benefit both the Netherlands and Trinidad and Tobago".
Also present was Dutch Ambassador to Trinidad and Tobago Raphael Varga van Kibèd en Makfalva, Minister of Works and Transport, Rohan Sinanan, and others.
AATT said this is the first time in 20 years since the airline last flew into Trinidad and Tobago.
The Authority said the airline will be operating three weekly flights from the Netherlands to Trinidad and Tobago starting from October 16.
KLM operates an extensive network which includes services within Europe and to Asia, Africa, North America, Central and South America, and the Middle East. The airline will be flying the route Amsterdam – Barbados – Trinidad – Amsterdam (AMS- BGI-POS-AMS).
The AATT said the introduction of this route can result in lower costs to travel to Europe through increased competition with the addition of a new carrier. Travelers can also look forward to faster times in reaching their final destinations as Amsterdam Schiphol (AMS) is a major European hub, which offers direct connections to cities in Europe and across the world.
The Authority added that the new service will also open up the European market for Trinidad and Tobago's exporters of fresh fruits, vegetables and flowers. Amsterdam is a large market for agricultural products and will provide a vital link in agricultural exports.
Photo: Dutch Ambassador to Trinidad and Tobago Raphael Varga van Kibèd en Makfalva, Minister of Works and Transport, Rohan Sinanan, and others