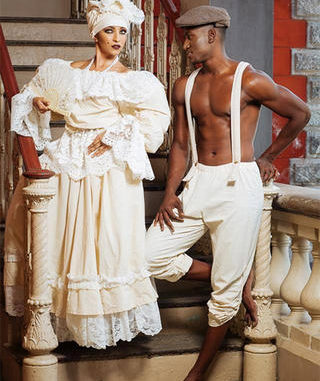 Brian Mac Farlane has pulled the contentious section, La Belle Dame and Garçon de la Maison (The beautiful woman and the house boy), from his 2017 Carnival presentation.
Mac Farlane made the announcement yesterday during a live panel discussion from Kinesis Studio in an apparent response to a barrage of criticism of the section from the public.
"I have made the decision not to move forward for this particular section from the 2017 presentation. I am deeply sorry for the pain I have caused," Mac Farlane said.
The section had formed part of Mac Farlane's "Cazabon: The Art of Living" and he pointed out he visited this particular part of history to achieve a sense of freedom, expression, identity, heritage and culture.
However, the section was heavily critcised by many for its depiction of slavery by using a house boy alongside a caucasian woman and led to heated debate on social media.
In addressing the debate over the past 72 hours, MacFarlane said when he embarked on the project he had invited designers of fashion and mas to share in the creative process.
He said the overall title of the band was based on the amazing architecture of the late 1800s and early 1900s, which exists up to this day in communities like Belmont, East Port-of-Spain, Woodbrook, across the Central plains and parts of Tobago, in addition to the more recognised spaces, such as the Magnificent 7.
He said while doing research he realised many of these homes and structures depicted influences from Africa, India and even Far East Asia and he wanted to help protect and preserve our heritage spaces the best way he knew how, through his art.
"Truth be told, there is a tremendous amount of good emanating from our society spending time debating the historic period, origin and influences of a Carnival band," he said of the debate on the section.
"When we acknowledge and present the imagery of our heritage, we have to see that out of these lived experiences came the freedom to walk and worship, to dine and dance, to love and laugh.
"Today, so many of us seem to take these liberties for granted and I don't exclude myself from that. So while I want to ensure always that I accurately reflect our incredibly multi-dimensional history, I understand that there is still a lot for me to explore, to unearth, to unlearn and to learn," he said.
He added: "My intention was never to offend anyone, or to come across as ignorant of our truth, or to idealise insensitivity. It was to depict the clothing of the time. However, I understand how and why it hurt some of us.
"And it is with this realisation that I have made the decision to not move forward with this particular section from the 2017 presentation."