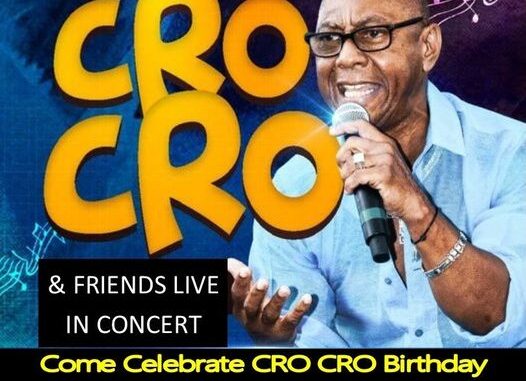 CARIBBEAN RHYTHMS FEST IN BROOKLYN, NY, ON LABOR DAY SATURDAY 9-3-22 @ 8pm
CRO-CRO & Friends Live In Concert at The Brooklyn Masonic Temple, located at 317 Clermont Avenue, Brooklyn, NY 11205 at the corner of Lafayette Avenue.
This epic concert promises to be awesome, one not to be missed. On that special night we are celebrating Cro-Cro's birthday and paying grand tribute to Trinidad & Tobago's 60 years of Independence. It would be an evening of fun, calypso, comedy, music, food and drinks.
Artists include Cro-Cro, Super Blue, Lord Nelson, Crazy, Poser, Benji C, General Grant, Ajala, Mr Lonesome, Brown Boy, All Ah Wee Rhythm Section, DJ Eddie Dee, Hypnotic Soundz. Hosted by Howard Hughes, MC Ian 'D Goose' Eligon & more special invited guests to be added.
Listen to Caribbean Radio on WPAT 930AM Radio (Wpat930am.com) with Howard Hughes every Saturday from 12 noon to 3pm (EST).
COME OUT & CELEBRATE CRO CRO'S BIRTHDAY! TELL ALL YOUR FRIENDS ABOUT THIS LABOR DAY CARNIVAL SATURDAY EVENING CONCERT. Share This Flyer and information Now! Thanks
Presented by Hometown Studios, Culture Best, The Mature & Sophisticated Crowd & Caribbean People.
Get your limited advanced $50 tickets today before price goes up in a few days' time. For more information and tickets call Jamal at 718-398-8863, that's 718-398-8863 or Howard at 347-221-0607 that's 347-221-0607.
Also, you can email your order to gmediamarketing@yahoo.com
–