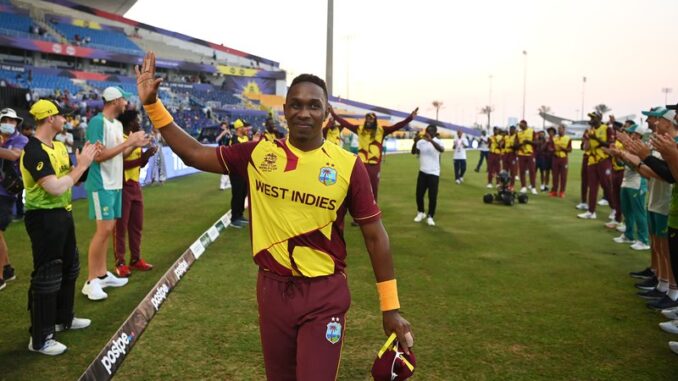 CWI thanks Bravo for outstanding international career
Cricket West Indies (CWI) has heaped praise on all-rounder Dwayne Bravo after he played his final match for the regional team on Saturday in the United Arab Emirates.
Bravo won the Champions Trophy with the West Indies in 2004 before winning T20 World Cup championships in 2012 and 2016.
The all-rounder played 91 T20Is for the West Indies, taking 78 wickets and scoring 1,255 runs.
CWI President Ricky Skerritt congratulated Bravo on an illustrious international career.
"He performed admirably in all three formats and added value to all levels of West Indies cricket. He was a trailblazer in T20 cricket and set the standard for how the newest format of the game should be played," the CWI President stated in a media release.
"Dwayne's talent, commitment, and dynamism thrilled fans of all ages and he was a star attraction for a generation of young cricket lovers. He excelled and demonstrated his immense prowess with both bat and ball and created a legacy of top-quality performances. He will always be a true West Indian champion and we thank you for that," Skerritt added.
Bravo's final international match was a loss to Australia in the T20 World Cup on Saturday in the United Arab Emirates.
Photo: Dwayne Bravo acknowledges the applause of the crowd after his final match for the West Indies against Australia on Saturday in the United Arab Emirates. (Photo credit – CWI Media)