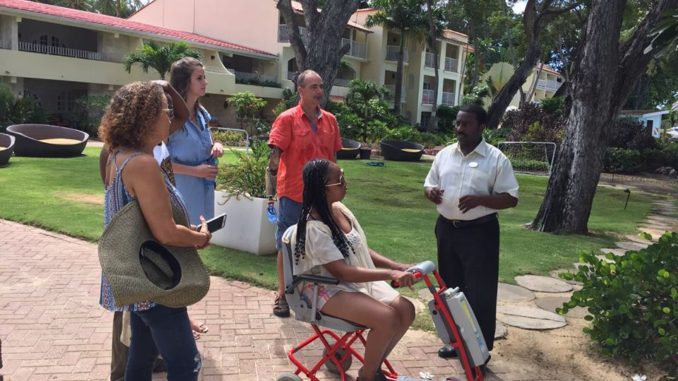 Disability Today Network is the largest disability media in Canada.
Barbados' tourism will be getting a much-needed niche boost as the island's many attractions will be featured in the largest disability media in Canada – Disability Today Network.
The publication carries both an online and print version and Barbados will be highlighted in the December 2016 issue. The network has an extensive reach with about 35,000 unique visitors monthly and over 16,000 Twitter followers for its online publication; similarly the print version with its 50,000 subscribers.
President and Publisher Jeff Thiessen travelled to Barbados to conduct site visits of a range of tourist attractions and accommodations for the publication over the last few days. He pointed out there was still much work to be done but the island was moving in the right direction to becoming a universal travel destination.
It was noted that travellers with disabilities appear to be an untapped niche in Canada that have a lot of financial resources at their disposal but are seriously restricted by the lack of knowledge about disabled travel.
Thiessen, along with Deborah Millington who is attached to the Barbados Tourism Marketing Inc. in Toronto and communication specialist, Dena Gouweloos, have been touring the island extensively to highlight areas on the island where tourists with disabilities can feel comfortable.
"There is no need for them [people with disabilites] not to feel comfortable here with what Fully Accessible Barbados but also the very unique service that the Council [Barbados Council for the Disabled] provides.
Often we are looked at in a bubble, people with disabilities. But we have friends and family too and when we travel it is rarely alone; we come in a group. So it really opens up tourist opportunities way beyond just the one guy who has the amputation or the one in a wheel chair."
The magazine will highlight a range of travel options for both luxury and budget visitors including Accra Hotel, Port Ferdinand, Andromeda Gardens and also Speightstown Sizzling. Barbados will also be highlighted in Zoomer Magazine, another Canadian publication with a focus on mature demographic.
Photo: File photo: Accessibility Farm Trip