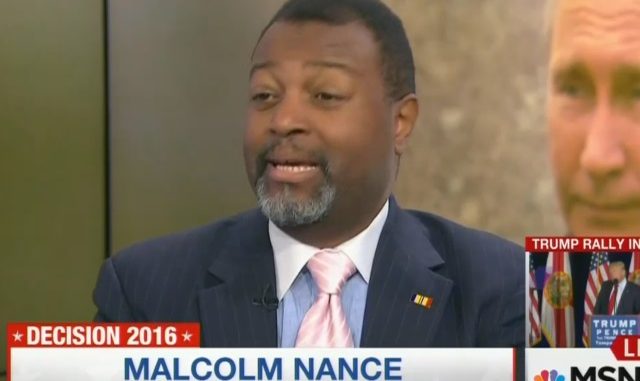 Dear Sir:

MSNBC, and Mr Malcolm Nance, should be called upon by our government to explain or substantiate claims made in the recent Joy Reid/Nance/MSNBC interview.
A letter from the attorney general of Trinidad and Tobago should be sent, via our embassy in Washington, to MSNBC, and copied to the Secretary of State, the Secretary of Homeland Secretary, the Director of National Intelligence of the government of the United States, and Mr Malcolm Nance, at his office as executive director of the Terrorist Asymmetrics Project On Strategy Tactics and Radical Ideology (TAPSTRI) in Hudson, New York.
It should make an inquiry as to what evidence Mr Nance has to substantiate his claims made in his MSNBC interview. Specifically, pertaining to President Trump's 2,800-word executive order, what evidence does he have that Trinidad and Tobago has exported terrorists to the US, or trained or harboured terrorists desirous of entering that nation?
Malcolm Nance has identified himself as an expert on al-Qaeda organization and personalities; on asymmetric warfare; counter-insurgency; naval cryptology; terrorist strategy and tactics; and counter-ideology in combatting Islamic extremists. He has been a keynote speaker and lecturer in the security industry on mitigating terrorist strategist and tactics.
In early 2001, he founded a company called Special Readiness Services international, devoted to providing security intelligence. He has worked as an intelligence officer for the US government's Special Operations, Homeland Security, and Intelligence agencies. He has been a guest commentator at FOX, BBC, MSNBC and CNN. And, as an intelligence and security contractor in the Middle East and North Africa. He has authored books; and many articles in metropolitan newspapers in the US and Britain.
On the morning of September 11, 2001, Mr Nance was driving to Arlington when he witnessed a passenger plane fly into part of the Pentagon. This plane was driven by a terrorist. Mr Nance distinguished himself by becoming a first responder; that is, he helped rescue the victims.
Nothing in Mr Nance's illustrious career before 2001 (he is now 65) equipped him with the intelligence that the US was about to face the 9/11 Twin Tower terrorist attack; the single most devastating attack on that nation in its then 225 year history. Nineteen young men, from Saudi Arabia and other nations, trained for over five years in the United States. To fly planes. Men allegedly linked to al-Qaeda. And Mr Nance, with all his expertise, in the military, learning Arabic, being tutored in cryptology, knew nothing. Right there in his backyard. He was reduced at the end to first-aid; rescuing victims he failed to protect.
Mr Nance, in 2016, came up with the uncanny revelation the Podesta email files, hacked and leaked to Wikileaks, were fake, false, forgeries. Mr Podesta never said they were, nor the Democrat Party, nor Julian Assange, the lead editor of Wikileaks. Mr Nance was promoting fake news. A falsity.
MSNBC is one of the chief antagonists to the presidency of Donald Trump. This is one of the media organizations, together with CNN and the Washington Post, that he calls the most dishonest group in history. Regularly, this news station engages commentators and experts who are known anti-Trump propagandists. Mr Nance is one of this station's "expert" commentators.
In his interview with Joy Reid, desperate to find anything to fling at his apparent persecutor, to collude with his host, he tried to drag our cockroach into his fowl business. To grind his political axe. He is a symptom of the reactionary and inflammatory response to the Trump effect. We must clearly show that we are a non-terrorist nation; and we must keep out of these phony cuchoor-laden US media wars.
Wayne Kublalsingh