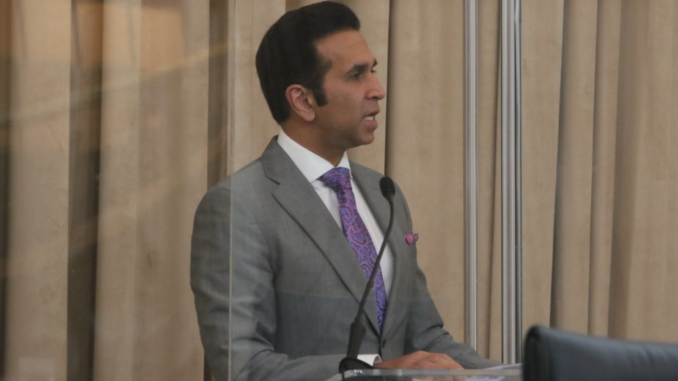 TNT GOVERNMENT FILE LEGAL MOTION AGAINST DUKE'S THA APPOINTMENT
AG files High Court motion over Duke's THA appointment
Attorney General and Minister of Legal Affairs, Faris Al-Rawi, has filed a motion in the High Court, a Construction Fixed Date Claim Form, seeking an interpretation of section 16(8) of the Tobago House of Assembly Act Chapter 25:03.
This comes following the appointment of Watson Duke as Deputy Chief Secretary of the Tobago House of Assembly (THA) while he simultaneously serves as Chairman of the Public Service Association (PSA) and is a paid member of the Registration Recognition and Certification Board (RRCB).
"The Office of the Attorney General has had inquiries from both the RRCB and from the Chief Personnel Officer regarding the status of Mr Duke as President of the PSA which is the recognised majority Union for Public Sector workers," he said.
Before filing the application, Al-Rawi received advice from several members of the Senior Bar who all supposedly agreed that there was an issue to be decided by the Court regarding Duke's appointment to the Executive Council of the THA and his participation for remuneration in other bodies.
"This application does not seek to unseat the election of any person to the Assembly or to the Executive Council of the THA. It merely seeks to clarify the law in the THA Act, as well as the Integrity in Public Life Act, Chap. 22:01, regarding the prohibition against a Secretary of the THA and a person in public life, engaging in activities which would be in conflict with his duties as a secretary," the AG explained.
He added that requesting the court's clarification will redound to the benefit and best interest of the citizens of Trinidad and Tobago.
"The court's ultimate ruling will certainly assist in the maintenance of confidence in the THA and will avoid unwanted challenges that may be taken against any and/or all actions and/or decisions taken and/or made by the Executive Council thereby ensuring transparency and protecting against challenges of unlawfulness."
Yesterday, Chief Secretary of the THA, Farley Augustine, said that the issue of any conflict of interest involving Duke has been resolved.
Duke announced his resignation from the PSA effective December 31, 2021.
Photo: File photo of Attorney General Faris Al-Rawi courtesy of the Trinidad and Tobago Parliament.