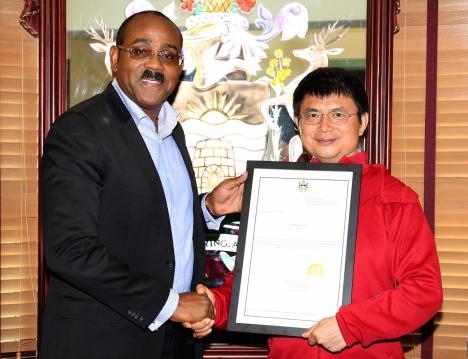 Billionaire Antigua-Barbuda Diplomat 'Disappears' In Hong Kong
ST JOHN'S, Antigua — One of Antigua and Barbuda's economic envoys and diplomatic passport holder, Xiao Jianhua, a billionaire with ties to the Chinese government, has reportedly been abducted from his Hong Kong residence by Chinese police.
Xiao, 45, was allegedly taken from his residence in a Hong Kong hotel and transported into mainland China. He has been missing since Friday, and if the Chinese police are involved in his absence, it would violate Hong Kong's constitution, which only permits Hong Kong police to operate in Hong Kong, a former British colony.
The Chinese-born Xiao, a Canadian citizen, is the founder and owner of Tomorrow Holdings, which controls nearly 1 trillion Yuan (US$160 billion) of assets, ranging from banks and securities houses.
Tomorrow Holdings controls nine listed companies, holding shares in over 30 financial institutions, including 12 city commercial banks, six securities companies, trust firms, insurers, mutual fund companies, futures firms and asset management companies.
In 2013 he invested in an equity firm owned by the sister and brother-in-law of Chinese president Xi Jinping to help them divest their financial holdings, and has since acted as a banker to the Chinese government elite, the New York Times reported on Tuesday.
Since his disappearance, Xiao posted two messages on his company's website, since removed, saying he was "recuperating abroad" and was not abducted. "Abroad" is a semi-official signal meaning outside of the Chinese mainland, and the person close to Xiao said the messages were meant to diminish interest in the story, the New York Times said.
Citing reports, the Guardian said Xiao is in police custody somewhere on the Chinese mainland and may be assisting the Chinese government with a graft investigation.
In the wake of Xiao's disappearance, Antigua and Barbuda Prime Minister Gaston Browne said he is prepared to recall all diplomatic passports.
On Wednesday, Browne told local media, "From all indication, he never utilised his appointment as an envoy to commit any crime. We are still unclear as to whether it was an abduction or arrest, and if it is the latter, what crime, if any, was committed."
He nonetheless noted that "if he is eventually charged with any wrongdoing" then "potential action involves revocation of his status of economic envoy".
The prime minister added that changes will be made to the system for issuing diplomatic passports and he said he is "absolutely determined" that Antigua and Barbuda should operate with complete transparency in this respect.
"The changes are likely to include the recall of all diplomatic passports and re-issue with biometric passports under a new policy. The new policy would also include publication of the list of diplomatic passports issued," he said.
To this end a new policy on the issue of diplomatic passports has been drafted and will be brought to Cabinet for discussion on Saturday. If approved, details of the new policy will be published next week and, in due course, not only will a list of all diplomatic passport holders be given to all countries with which Antigua and Barbuda has bilateral diplomatic relations but also made available to the general public.
Photo: Prime Minister Gaston Browne (L) presents a letter of appointment to Xiao Jianhua as ambassador-at-large for Antigua and Barbuda in June 2015