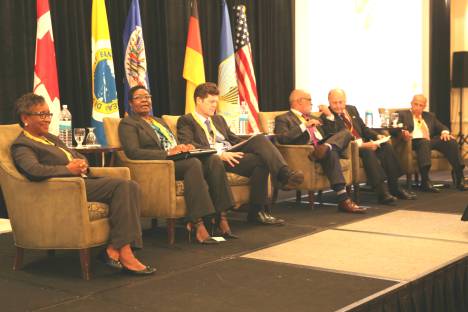 Caribbean countries have made notable progress in making the shift to sustainable energy but more must be done to promote and unlock financing for a clean energy shift in the region. Representatives from the Caribbean Development Bank (CDB) made this point during the Fifth Caribbean Sustainable Energy Forum (CSEF-V) in Nassau, Bahamas, last week.
Tessa Williams-Robertson, head of renewable energy and energy efficiency, CDB, was among keynote presenters at the event, which took place from January 23 to 25, 2017. She made recommendations on how governments can bridge the financing gap that could slow the region's progress on achieving its renewable energy targets. Data show that the Caribbean needs at least US$15 billion in financing to achieve 47 percent renewable power capacity by 2027.
"As a region, we face a number of constraints to accessing financing for sustainable energy development. These include our small market size and the perceived high risk of investing in the Caribbean," Williams-Robertson said.
Williams-Robertson told attendees that to drive the right quantity and quality of investments, Caribbean governments need to ensure their legal frameworks allow and support sustainable energy financing; establish the feasibility and financial viability of the proposed projects; and determine if capacity-building or technical assistance is needed for implementation.
"Concessional financing is also critical to driving sustainable energy innovation in the Caribbean," she added.
"CDB is pleased to report that we have had successes in mobilising such resources to power a clean energy future for the Caribbean region," she said.
The bank's borrowing member countries now have access to grant and loan resources, and technical support that CDB has raised from a number of partners and agencies. They include funding from the government of Canada; the European Investment Bank Climate Action Line of Credit; the European Union Caribbean Investment Facility; the Government of Germany; the Inter-American Development Bank; and the United Kingdom Department for International Development.
In addition to taking the appropriate steps to secure the right kind of financing, Joseph Williams, Sustainable Energy Adviser, CDB, encouraged attendees at the high-level forum to apply lessons learned as they chart a path to energy security.
"In addition to mobilising financing, we must learn from the lessons that have emerged, particularly during the past five years. We know that Caribbean governments need champions who can promote a clear vision for their energy sectors. As a region, we must commit to practising good governance; and create more enabling environments if we are to achieve real progress on our renewable energy targets," Williams said.
CDB and the government of Canada supported CSEF-V through the Canadian Support to the Energy Sector in the Caribbean Fund. The forum, hosted by the Caribbean Community, engaged more than 100 national, regional and international stakeholders, from the public and private sectors, on the topic of sustainable energy.
Photo 1: Tessa Williams-Robertson (first from left) joins panellists for a discussion after delivering they keynote presentation on "Innovative Financing Mechanisms and Tools: How to unlock the appropriate quantity and quality of capital for the region's sustainable energy needs" at CSEF-V
Photo 2: Joseph Williams, Sustainable Energy Adviser, CDB (left) participates in a panel discussion, "The CARICOM Energy Transition: Lessons from the Last Five Years". Christiaan Gischler, Lead Energy Specialist, Inter-American Development Bank (right) was one of the discussants on the six-member panel