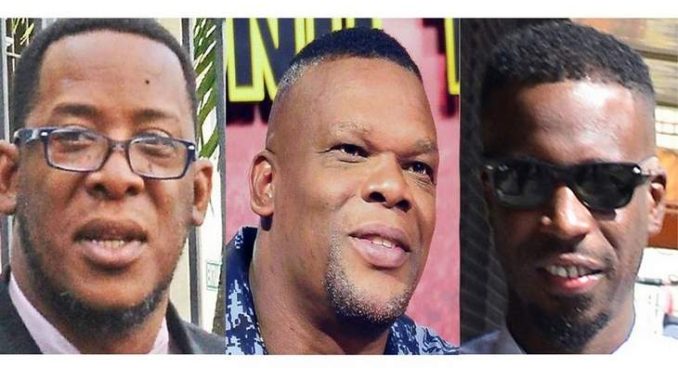 …Alexander, Seales, Mires in court in May
THREE police officers including president of the Trinidad and Tobago Police Service Social and Welfare Association (TTPSSWA) Insp Michael Seales as well as former TV6's crime show co-host Insp Roger Alexader will face trial for separate offences when they next appear in court in May.
Chief Magistrate Marcia Ayers-Caesar yesterday set May 2, as the date when the trials against the officers will begin before her at Port of Spain's Magistrates' Court. Seales is charged with making a seditious statement in June 2015 on TV6's Morning Edition programme.
During the programme, he made a claim stating that at that time, there was an alleged plot by the then-People's Partnership government to frustrate the Police Service to react in such a way that there would be a need for a state of emergency, thereby stalling the general election which took take place on September 7, of that year.
Alexander is charged with assaulting Santa Cruz resident Christopher Charles in July of last year, causing him actual bodily harm. Another officer, PC Sheldon Mires, is charged alongside Alexander with two similar offences arising out of the same incident. He is charged with assaulting Charles by way of beating him and also committing common assault upon the alleged victim. The offences were alleged to have taken place in Santa Cruz.
Alexander and Mires were charged by way of summons in January.
Alexander was the co-host of TV6's Beyond the Tape programme, a show geared towards crime fighting and strengthening the relationship between the police service and members of the public. Mires usually appeared on the show's Protect Yourself segment in which he played the role of a character by the name of "Ninja" who oftentimes found himself in trouble with the law.
Senior Counsel Gilbert Peterson and attorney Lee Merry are representing Alexander, while Mires is being represented by defence attorney John Heath.
Seales, who was contesting the presidency of the TTPSSWA at the time, was arrested on a warrant at the Besson Street Police Station in June last year and later charged for the offence. He later went on to win the presidency, having received the most support from the membership of the association.
He is being represented by Senior Counsel Pamela Elder.
Photo:  Charged: (left to right) Michael Seales, Roger Alexander and Sheldon Mires.
By Rickie Ramdass