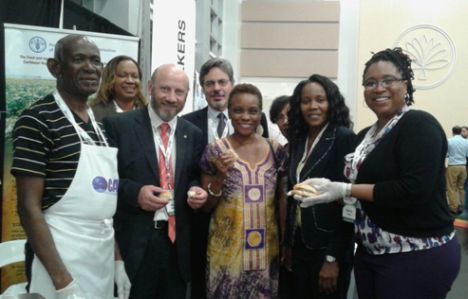 GEORGE TOWN, Cayman Islands — At least three Caribbean countries – Barbados, Grenada and Trinidad and Tobago – are selling sliced bread made partly from cassava flour instead of only regular wheat flour and another five have had training in a bid to have the region use more cassava and its products, this according to Dr Lystra Fletcher-Paul from the Food and Agriculture Organisation (FAO) Caribbean office.
"Bakers from eight CARICOM countries have been trained in using grated cassava and/or cassava flour to replace up to 40% wheat flour," said Fletcher-Paul, while addressing the opening ceremony of the Caribbean Week of Agriculture on Wednesday, October 26 in the Cayman Islands. "Supermarkets in Barbados, Grenada and Trinidad and Tobago now sell sliced bread made from 40% cassava."
Fletcher-Paul was speaking against the background that the Caribbean Community (CARICOM) has an annual food import bill in excess of US$ 4 billion. With a large, growing market of 16 million people in 15 member states and food imports nearly doubling over the last ten years, she stressed that the region needed to find alternatives to reduce the food bill.
The FAO in collaboration with other partners such as the Caribbean Agribusiness Association (CABA) and the Inter-American Institute for Cooperation on Agriculture (IICA) are a part of a regional cassava working group, which has been pushing for greater investment in cassava production in the Caribbean.
According to an FAO brief on cassava, the product is a viable substitute to the importation of wheat and corn as a contributor to the high import bill. Some 900 000 metric tonnes of wheat for flour (valued at US$248.77 million) and 420 000 tonnes of corn (valued at US$145.46 million), mainly for poultry feed, is imported by CARICOM countries annually. Additionally, the regional beer industry imports nearly 100 000 tonnes of malt annually and uses high fructose corn syrup as another ingredient in beer.
"Red Stripe is now using cassava in its beer production," said Fletcher-Paul, while adding that the cassava market had expanded to coffee shops and hotels, to feed suppliers for livestock feed and breweries for beer.
The FAO brief said that based on analyses conducted in several CARICOM countries, there is a huge, untapped import substitution market opportunity for food, flour, feed and beer (and possibly energy – if volumes of production permit) that can be addressed by using cassava.
Cassava can:
• replace 400 000 metric tonnes of wheaten flour in CARICOM countries
• substitute up to 40% of the corn in poultry rations without adverse effects as well as a portion of other animal feeds
• be more widely consumed as a healthy, staple food
• on its own address approximately 5% of the food import bill
It made the case that the CARICOM region is well-placed to move the cassava industry forward. Cassava already has a production base in almost all of the countries of the region and is adapted to a wide range of environments and soil types, making it an ideal crop for expansion on marginal and sub-marginal lands.
Non-traditional uses that need to be more widely exploited currently include animal feed (cassava hay, chips, pellets and feed-grade single-cell protein) and industrial applications (bio-fuel feedstock; sweeteners, alcohol, plywood, textiles, paper).
The CARICOM Secretariat, with funding from the European Union, is leading the development of a regional cassava policy with the other agencies contributing, especially from the standpoint of production, processing, marketing and consumption public policy needs. The issue of cassava was also an agenda item on the third day of discussions and the formulation of an investment policy for Caribbean Agriculture at the 14th staging of the Caribbean Week of Agriculture.
Photo: Lamb burger and cassava bread – a hit at CWA: Assistant Director General for FAO, Raul Benitez (second left front row) and FAO Sub-Regional Coordinator for the Caribbean, Dr Lystra Fletcher-Paul (third right) as well as other FAO staff members enjoy lamb burgers made from blended cassava and wheat flour at the Caribbean Week of Agriculture