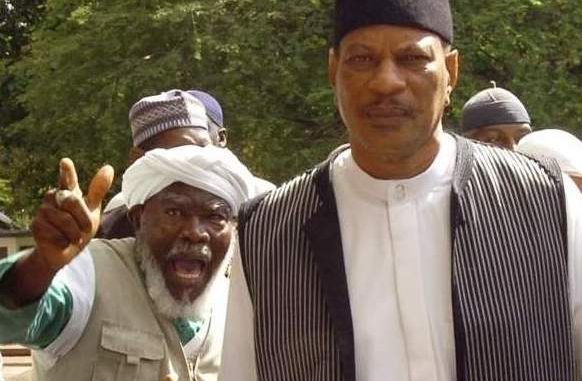 …he can call witnesses or testify
JAMAAT-al-Muslimeen leader Yasin Abu Bakr on Monday had a prima facie case made out against him after a Port of Spain magistrate said she was satisfied that sufficient evidence was presented to have sentence imposed on him for failing to appear before a commission of inquiry into the 1990 coup attempt.
Abu Bakr reappeared before Chief Magistrate Marcia Ayers-Caesar on a private charge brought against him by secretary of the commission Laraine Lutchmedial after he failed to appear before the inquiry and give evidence on two occasions despite being served with summons to do so.
When the matter was called in the Eighth Court, Ayers-Caesar said she was satisfied that attorneys for Lutchmedial, Senior Counsel Israel Khan and Larry Lalla, were able to present enough evidence against the Jamaat leader.
Now, Abu Bakr will be required to call witnesses to testify on his behalf or give evidence himself, when the matter is next called on April 4, in an attempt to sway the magistrate from sentencing him under Section 12 and 16 of the Commission of Inquiry Act. He faces a maximum fine of $2,000.
His attorneys previously stated the reason for him not attending the inquiry was because any testimony he gave had the potential to prejudice his then ongoing trial for sedition, which subsequently ended in a hung jury and a retrial being ordered.
Following the non-appearance, the commission referred the matter to Director of Public Prosecutions (DPP) Roger Gaspard, SC, who took the position to not lay any charges against Bakr.
However, he advised the commission it could file a private complaint under Section 12 and 16 of the Commission of Enquiry Act, which was subsequently done.
Regardless of what the outcome of the matter is, Bakr, who is represented by attorney Criston J Williams, cannot be served with another summons to attend the inquiry given that evidential hearings have since been completed and a report published.
During the hearing of the private complaint, only one witness, Cpl Terrance Ramsepaul, gave evidence on behalf of the commission.
Ramsepaul was the officer who served Bakr with the summons at his Queen's Park West, Port of Spain, home on September 9, 2013, and informed him he was required to attend the commission two weeks later.
On July 27, 1990, Abu Bakr led 114 members of the Jamaat-al-Muslimeen who attempted to overthrow the then National Alliance for Reconstruction (NAR) government by carrying out co-ordinated attacks on both the Parliament and Trinidad and Tobago Television (TTT).
Twenty-four people were killed in the coup attempt which lasted six days before Abu Bakr and the other insurgents surrendered to the armed forces.
They were tried for treason but the Court of Appeal upheld the amnesty offered to secure their surrender.
The Privy Council in London, England, later invalidated the amnesty but Abu Bakr and his followers were not rearrested.
Photo: Jamaat-al-Muslimeen leader Yasin Abu Bakr (right)
By Rickie Ramdass