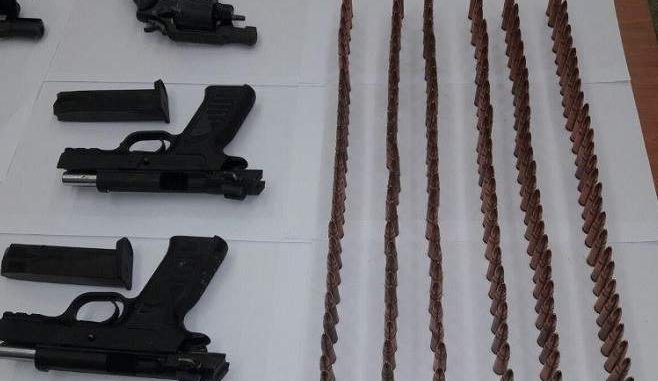 …woman held in San Fernando with firearm
POLICE seized a quantity of firearms and 184 rounds of ammunition in Penal on Monday.
The items were found in a knapsack, but the suspect carrying it eluded police officers.
A report stated that around 8 p.m. officers of the South-Western Division Task Force led by Sgt Victor and Cpl George went to an area known as Puzzle Island in Suchit Trace.
Police said that they observed a man running along the side of an abandoned concrete structure.
The officers pursued the suspect but he escaped.
However, in the bushes the officers allegedly discovered the bag containing two nine millimeter pistols each with magazines, a Colt revolver, 180 rounds of 7.62 ammunition, and four rounds of nine millimeter ammunition.
PC Seeth is continuing investigations.
And in Duncan Village, San Fernando, an interior decorator was detained after she was allegedly found with a firearm in a car.
Police said at around 9 p.m. as a result of information received, officers stopped a Nissan Wingroad driven by the 22-year-old suspect.
Police said upon searching the vehicle they allegedly found a .38 revolver on the front passenger seat.
The suspect was arrested and taken to the Penal Police Station where she was expected to be charged with possession of a firearm.
Photo: Weapons find: The array of guns and ammunition discovered by police in penal on Monday.