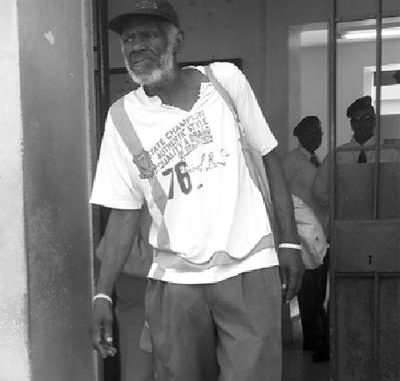 A pensioner, who on the eve of his 66th birthday pleaded guilty to stealing vitamins and deodorant on Monday, was placed on $3,000 bond for two years.
In his defence Michael Williams claimed he needed the vitamins to strengthen his body in preparation for a surgical procedure.
Williams, a shoemaker, appeared before San Fernando Fourth Court Magistrate Margaret Alert.
He was arrested and charged by PC Mathura with stealing the items from Massy Stores, La Romaine, on October 21.
Prosecutor Sgt Krishna Bedassie told the court Williams tried to leave the supermarket with a plastic bag containing eight bottles of Gillette and Secret deodorant, four containers of Seven Seas capsules and two bottles of Neovita capsules worth $1,310.12. He did not pay for the items.
The prosecutor said Williams told Mathura: "Boss, I going for operation and I take the stuff. Officer I ain't rob nobody. This is a larceny. I will spend a 30 days and I will come out and hit a next store."
Williams, however, denied making the utterances and stealing all the items.
He said: "I only steal four of the items, one Seven Seas and three roll-on… and they put all what was in the trolley in the bag. That is bad. I does suffer with this thing (pointing to his groin area)."
However, the magistrate said given his long criminal history spanning from 1997 to last year when he was charged with larceny, Alert said she believed he made the utterances to the police.
The father of three said he lived with his pregnant daughter and his three grandchildren in Chaguanas. He said he did not ask his family for assistance because he did not want to harass them.
Asked why he took the deodorant off the shelves, Williams said when he came out of a maxi he stumbled and accidently broke a vehicle's mirror and the owner told him it would cost $600 to fix.
"I told him I know somebody at Massy Store. When I got there I just start to take up things boldfaced, boldfaced," he said.
"You accustom weaving stories," the magistrate told him.
However, she said he had a few things in his favour, including his age and he pleaded guilty.
Alert said she only considered his 2015 convictions as it was the only one that fell within the ten-year period.
Telling him he was intelligent enough to find a legitimate way to buy vitamins, the magistrate warned Williams that if he breached his bond he will serve three months in prison.