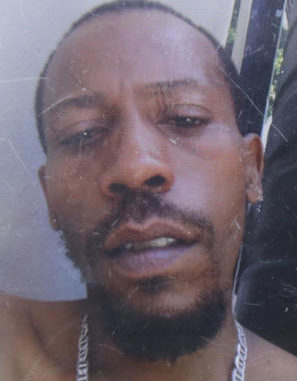 While armed police stood guard outside her son's funeral yesterday, Sharon Deslandes, the mother of Adalle Gilbert vowed to reveal a new video disputing the police version of how her son was shot and killed by police.
Promising that the officer who fired the shots will be charged, Deslandes unleashed her fury during the funeral at Guides Funeral Home, San Fernando.
Gilbert's widow, Alisha Richards, sobbed quietly along with his children —Nathan, Elijah, Eli and Jahdelle—as photos of Gilbert came up on the screen.
Calling herself the leader of the "Gilbert pack," the petite mother of nine said she returned to Trinidad from New York on Friday and spent the past few days looking at the photograph of the officer who shot and killed Gilbert.
"They didn't come to serve him no warrant. They came to chase him down and shoot him down like a dead pig and swing him around and drag him and then decide to take him to the hospital," Deslandes said.
"When you think (name called) get away, someone else was taping the whole story. I can't wait for (name called) to see it," she shouted as the audience applauded and drums rolled.
A video of the events after Gilbert was shot circulated on Facebook hours after he was shot and killed last Thursday and sparked outrage among social media users and prompted two separate investigations by the Police Service and the Police Complaints Authority.
Deslandes said Gilbert knew he was being targeted and was concerned about the safety of his children.
"I haven't cried yet because exactly two years ago, he said, 'Mom they are going to kill me. Promise me that you are going to take care of my kids.' And I said 'Adalle, this is what you call to tell me? He said 'Mom, promise me.' I said, "Well, I take care of them now anyway," Deslandes recalled.
Saying she will stand strong as the leader of the family, Deslandes vowed to deal with the police "professionally." She also denied her family enjoyed money from the sale of illegal drugs.
She also pleaded with Gilbert's friends and other relatives to do the right thing.
"You have to think about what you doing and don't give mom anymore headache. I am not always here. I am the leader of the Gilbert pack but I need support."
Following the funeral, Gilbert, who wore a basketball cap, was carried in his blue coffin back to the Carlton Lane, Housing Development Corporation project where he lived and where he was killed. While loud dancehall music blared, he was buried before 6 pm at the Roodal Cemetery in San Fernando.
Gilbert, 34, was shot dead last Thursday during a police exercise.
An autopsy showed he was shot in the back and the bullet exited his chest.