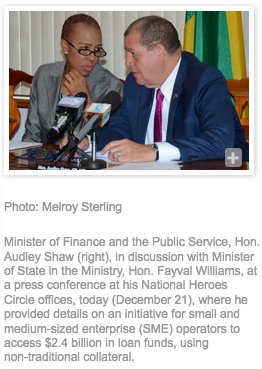 The Government has made it easier for small and medium-sized enterprise (SME) operators to access $2.4 billion in loan funds, by using non-traditional collateral.
Minister of Finance and the Public Service, Hon. Audley Shaw, says a policy decision by the administration has allowed the Bank of Jamaica (BOJ), to reduce risks associated with loans issued by deposit-taking institutions that are guaranteed by the Development Bank of Jamaica (DBJ).
Providing details of the move at a press conference held at the Ministry, National Heroes Circle, today (December 21), the Minister said it will "incentivise lending to SMEs", with increased "levels of financing" while allowing the lenders to accept new forms of collateral from investors.
Mr. Shaw said the decision to enable SME operators to use alternative security for loans is consistent with the Government's commitment to a "robust economic growth programme", and the microfinance sector is an area that it is relying on to anchor "our goal of sustained economic growth" in the short run.
"We recognise the role of small and medium enterprises as our partners in the mission for job creation, economic growth and prosperity, and supporting these entrepreneurs is an important component of Jamaica's economic strategy," the Minister said.
In 2009, the Government launched the Credit Enhancement Fund (CEF), as a pilot project, to increase access to credit for SMEs that lacked adequate collateral to secure loans, and, recently, following recommendations from the Economic Growth Council (EGC), the BOJ reduced risk-weighting for loans backed by the DBJ under the CEF.
Meanwhile, Mr. Shaw urged persons to leave the informal economy. "Enter the formal economy with a business plan and a good strategy. You will get money at five and six per cent. That is the thinking behind the new initiative and part of the strategy to achieve five per cent growth within four years," the Minister said.
For his part, Vice Chairman of the EGC, Dr. Nigel Clarke, said he is pleased with the development, while Chief Executive Officer of the Private Sector Organisation of Jamaica (PSOJ), Dennis Chung, commended the Minister for the decision taken.
Managing Director of the DBJ, Milverton Reynolds, said the policy will help to expand the SME sector.
By Garfiled L. Angus