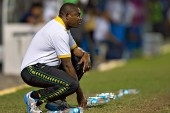 Jamaica's Under 17 football squad is to play a series of matches against parish-select Under-17 teams across the island starting on Thursday as it ramps up preparations for the CONCACAF Under-17 tournament set for Panama in April.
According to the Jamaica Football Federation, the games will provide both match practice for the players as well as opportunities to identify any new talent in the parishes. The games, which will complement the training sessions, will be for the month of January.
"Right now we are focusing on physical preparation and our defensive aspects," said head coach Andrew Edwards, while speaking with SportsMax.tv, confirming that they will also be looking for talent at the parish level that "we may have overlooked but has now developed sufficiently."
The first match is set for Thursday, January 5 at Paul Bogle High in St Thomas. Two matches match are set for Drax Hall in St Ann on January 7 (10 am and 3 pm) with two more matches Trelawny and St James on January 8.
The first match is to be held at the Elletson Wakeland field while at 1 pm, the team is down to play again at Jarrett Park in nearby St James.