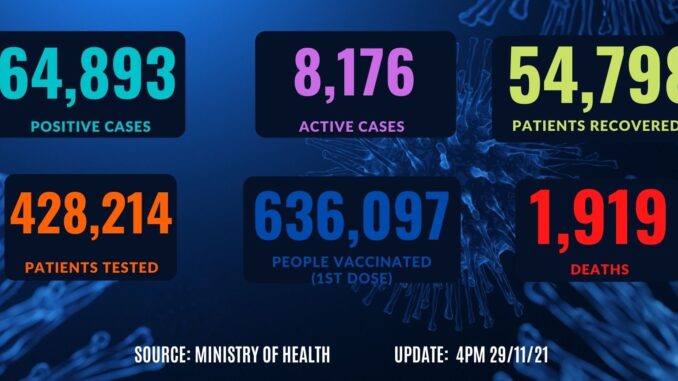 COVID-19 death toll nears 2,000 as 11 more die, 491 contract virus
Eleven more people have died of COVID-19, pushing the death toll to 1,919.
The latest fatalities include one elderly male, five elderly females, four middle-aged males and one middle-aged female.
One patient had multiple comorbidities including Diabetes, Hypertension and Heart Disease.
Six people had one comorbidity namely Diabetes, Hypertension, Cancer or Dementia.
Four had no known comorbidity.
In its 4pm clinical update on Saturday, the Ministry of Health also reported 491 new COVID-19 cases.
Active cases have risen to 8,176.
Additionally, there are 503 patients in hospital, 109 in step-down facilities, 92 in state quarantine and 7,073 in home self-isolation.
With respect to the Ministry's vaccination drive, 636,097 people have received a first dose of a two-dose regimen, while 633,341 have completed their vaccination regimen.
Furthermore, 9,289 people have received an additional primary dose.