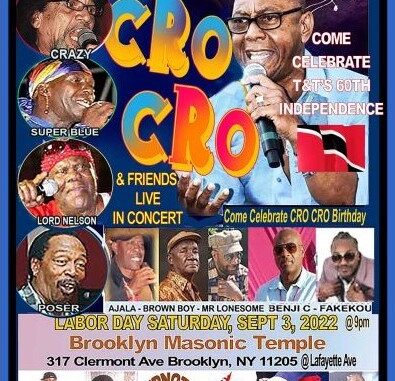 CARIBBEAN RHYTHMS FEST 22
Caribbean Rhythms Fest 22 is presented by Hometown Studios, Culture Best Promotions & Caribbean People Promotions. The organizers and producers include Jamal Talib, Howard Hughes and others.
The organizers and producers felt that the Brooklyn & surrounding communities were lacking an event specially designed to accommodate the mature & sophisticated crowd and decided to produce a classic show and dance for the end of summer.
The event is carded for 'LABOR DAY SATURDAY NIGHT' SEPTEMBER 3RD, 2022 @ 9PM. The historic venue is the Brooklyn Masonic Temple. Celebrating T&T's 60th Independence, Cro Cro's birthday and West India American Day Carnival.
Live performances by Cro Cro, Lord Nelson, Super Blue, Crazy, Poser, Brown Boy, Mr Lonesome, Benji C, Ajala, Fakekou, Garth David and others.
Msuic would be supplied by Dj Fablous One, Hypnotic Soundz, Dj Eddie Dee & others. Ther would also be a top rhythm section from Queens, 'We Rhythm'.
All Artist would be backed by the Hometown Squad Band. The event is hosted by The Heavy Hittin' Howard Hughes. MC's for the night are Ian 'D Goose' Eligon and Wassy 'Just Passing Through'.
Early limited advance tickets are $50, VIP tickets are $75.
CALL ME NOW FOR YOUR LIMITED ADVANCED $50 TICKETS BEFORE THEY SELL OUT! 347-221-0607
Also, you can purchase your ticket online on EventBrite.com.
Tickets would also be at some Caribbean outlets including Allan's Bakery, Charlie's Records, Hometown Studio, Ali's Roti on Utica Avenue and VP Records in Queens.
This event promises to be awesome and memorable.