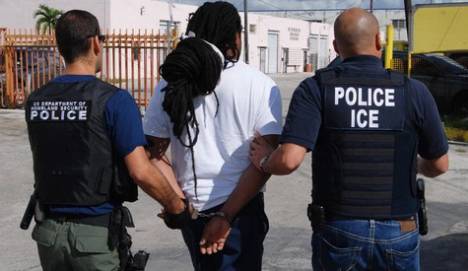 By LK Hewlett
BASSETERRE, St Kitts (WINN) — An expected increase in the number of Caribbean nationals that will be deported from the US for serious crimes in the coming months is being considered by many Caribbean Community (CARICOM) countries as a threat to their national security.
US President Donald Trump has not only signaled his administration's intention to accelerate the rounding up and deportation of illegal immigrants, he is implementing the policies necessary to carry out these mass deportation plans.
Coming out of high-level regional meetings held in St Kitts last week, prime minister of Antigua and Barbuda, Gaston Browne, said the sub-region will have to put mechanisms in place to deal with the criminal elements that will be among those sent back to the countries of their birth.
"On the issue of the deportees I think we can expect to see an acceleration in the amount of deportees from the United States. It's not that this hasn't been happening, it had been happening under Obama, it's just that the enforcement now under Trump will certainly be more aggressive, which means we have to now put systems in place to deal with the increase in traffic, and perhaps too our law enforcement officers will have to become a little more attuned to fighting more sophisticated crimes.
"It means to that we have to have proper monitoring mechanisms in place to monitor these criminals not only within our respective countries, to monitor their movements within the region, especially the OECS sub-region in which we have an economic union and they can move freely.
"It's an area in which have to pay increased attention. In fact, it's one of the threats now facing the region," he said.
Browne said, along with the security issues, mass deportation will also present challenges on the economy. He said while the focus will chiefly be on the criminal deportees, governments would also likely to have to provide support for those deported for having overstayed in the US.
"We also, I believe, will have to provide many of them with facilities and even some form of economic support because many of them coming back to the Caribbean, they have no relatives, and we have to find some way to reintegrate them into society.
"In the case of Antigua and Barbuda there are a few of them because of how vicious their criminal activities had been in the United States that we have actually prioritized their employment; make sure they at least have a job, they can eat and survive and pay their rent; failing which they are likely to turn on the society.
"I think from a security standpoint our major concern is the hardened criminals. Clearly those who would have overstayed the issue now is just to reintegrate them back into society, to find jobs for them. It means to that economic growth would have to be a priority because we no longer just have to deal with school leavers, many of whom are struggling to get jobs in our respective countries, so we have to now deal with the influx of these deportees," he continued.
St Kitts and Nevis prime minister, Dr Timothy Harris, suggested that the larger countries deporting Caribbean nationals should provide some assistance to the smaller countries receiving them.
"We have said to the US government why not consider investing in our capacity to deal with these people – halfway houses, programs that could help with the reformation and rehabilitation of deportees – become important considerations to assist a country.
"We are told by international law that no country can refuse to receive its people. So if you are sending them back to us by reason of the accident of their birth, they come, no father no mother now to take care of them; they almost become a charge on the public purse and it breads instability in the community.
"So we are hoping for greater sensitivity. Will we get that from the Trump administration? We will wait and see because the hour is still yet young with regard our own engagement with that matter," Harris said.
The CARICOM Implementing Agency for Crime and Security (IMPACS) will be holding a meeting to discuss the deportee issue in April. Top level immigration and customs officials from across the Caribbean are slated to attend the meeting being hosted by Antigua.
Article courtesy WINN