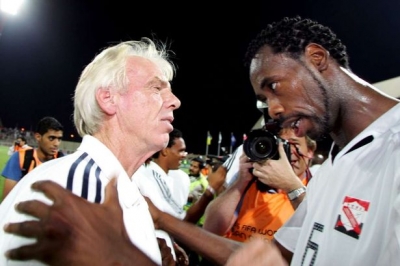 It was Dennis Lawrence's goal in 2005 that got T&T to its first ever world cup.
And now the man in charge at the time, Leo Beenhakker, approves of the big man's appointment as T&T's next head coach.
The TTFA confirmed Lawrence's appointment on Saturday, following which Beenhakker gave his own stamp of approval, stating that Dennis "is the right man for the job."
The man affectionately called 'don' Leo said "he has the authority, the personality and even more than that, the knowledge of the game, to do a successful job and he deserves the support of the board, the media and the fans.
Dennis was the guy who brought T&T in November 2005 for the first and only time to the world cup.
I am totally convinced that with the support and confidence of everybody he is the right man in the right place to realize a new successful chapter in history as national coach of T&T."