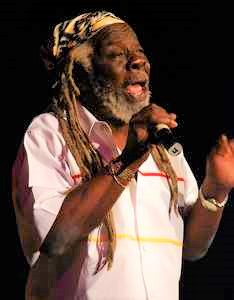 Veteran calypsonian Dr Leroy Calliste, The Black Stalin, has died.
Calliste, 81, passed away at his home in San Fernando on Wednesday morning 12/28/22. He was surrounded by his family.
Calliste suffered a stroke in 2014 which affected both his speech and movement on the right side of his body. However, his memory and mental faculties remained intact.
At his 80th birthday celebration last year, Calliste sang Happy Birthday and verses from his popular calypso hits.
Last year, Lord Street in San Fernando was renamed Dr Leroy Calliste Street. Calliste, however, was not well enough to attend the celebration.
BIO:
Black Stalin Leroy Calliste (born 24 September 1941), better known as Black Stalin, is a leading calypsonian from Trinidad and Tobago known for his lyrics against European colonial oppression. He has won the Calypso Monarch competition on five occasions and the Calypso King of the World title in 1999. Contents include: 1 Biography, 2 Discography & 2.1 Albums.